Vrijdag 20 juli 2012 was m'n laatste kantoorwerkdag op de Infotheek bij de Wereldomroep. Ik was daar zo'n 17 jaar fulltime in dienst.

Filmpje: op m'n voorlaatste kantoorwerkdag bij de Wereldomroep kwam NTR-collega Ben Kolster even langs 🙂
Door een gigantische aanslag op het budget – 70% eraf! – moet de Wereldomroep drastisch de koers verleggen en reorganiseren. Daardoor is driewart van de medewerkers – ruim 250 mensen, waaronder ikzelf – boventallig verklaard en noodgedwongen ontslagen.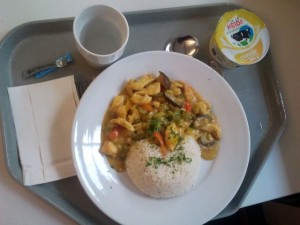 M'n laatste warme maaltijd bij de Wereldomroep, mmm… rijst met kip-kerrie.
Terwijl ik op zoek ben naar een nieuwe uitdaging gaat de Wereldomroep verder als een multimediaal journalistiek produktiehuis met nog slechts één kerntaak: bevordering van vrije meningsuiting in landen/regio's waar dit mensenrecht ernstig of geheel wordt onderdrukt. De nieuwe taakstelling met een drastisch ingeperkt budget heeft als consequentie dat vertrouwde onderdelen uit het bedrijf zijn weggesneden, zoals diverse taalafdelingen, de Infotheek en de muziekafdeling. Het ontmantelingsproces is in volle gang en hierbij gaan onherroepelijk veel waardevolle zaken voorgoed verloren. Wrang voorbeeld van onomkeerbare teloorgang vind ik de opruiming van het knipselarchief van de Wereldomroep. Sinds een jaar of vijf wordt er niet meer geknipt, maar ook al verstomde het geluid van de scharen, het omvangrijke mappenbestand was altijd nog te raadplegen. Tot vrijdagmiddag 20 juli 2012. Een dag eerder ving ik terloops op dat de opruiming van het knipselarchief nog 'voor het komend weekend' zou plaatsvinden, een beslissing die blijkbaar al enige tijd geleden van hogerhand was genomen.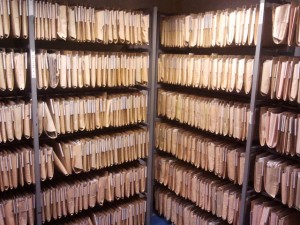 Donderdag 19 juli 2012, gedeelte van het dan nog raadpleegbare knipselarchief.
Ik was geschokt. Hoe kan je dit mooi opgebouwde papieren archief, het resultaat van tientallen jaren monnikenwerk, weggooien?! Had ik een enorm huis en veel geld, dan had ik dit bijzondere archiefje graag overgenomen, maar de realiteit is helaas weer eens weerbarstig.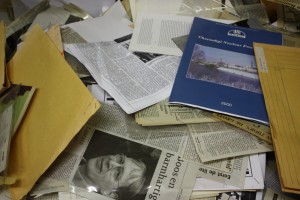 Vrijdagmiddag 20 juli 2012: het roemloze eindstation van het knipselarchief… de afvalcontainer.
Voordat de weggooiers met hun afvalcontainers arriveerden hebben ikzelf en een viertal collega's nog een laatste greep gedaan in de onvolprezen bundeling van binnen- en buitenlandse berichten en publicaties. Voor de nieuwe Wereldomroep zijn een paar relevante themamappen bewaard en persoonlijk ben ik erg blij dat een door mij gewaarschuwde NTR-medewerker – een van de grootste kenners in Nederland van monarchie en royalty – de omvangrijke Koningshuis-onderdelen van het knipselarchief mee naar huis kon nemen. Last but not least hebben 45 mappen, boordevol artikelen over onderwerpen en personen die mij mateloos interesseren, een veilig onderkomen gekregen in m'n eigen privé-archief.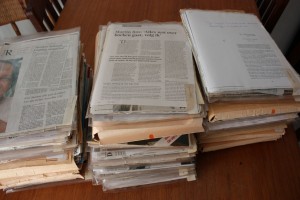 Gered prachtmateriaal dat ik heb toegevoegd aan m'n eigen privé-collectie.
HOME