On Saturday 22 May 2010 electrifying world class classical pianist Valentina Lisitsa is performing in Leiden, The Netherlands. She's gonna play an exciting and daring programme: two Beethoven Sonatas (the 'Mondschein' and the very complicated 'Hammerklavier') and all(!) 24 etudes of Chopin. For more information on the location and sale of tickets, click here. On Friday 28 May she will perform the Rachmaninoff / Warenberg 5th Piano Concerto (European premiere) with the Rotterdam Philharmonic Orchestra. Both concerts are really a must for evry lover of classical piano playing.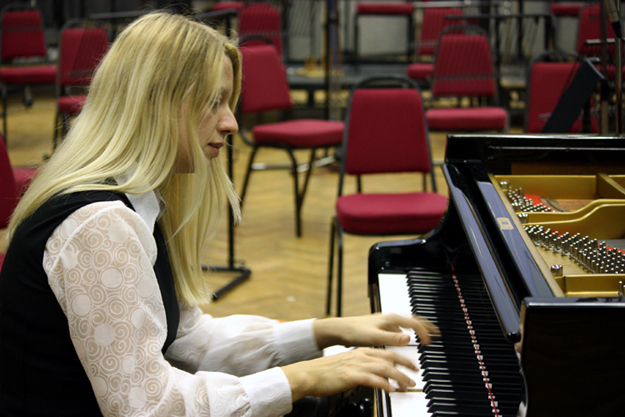 Valentina Lisitsa during a rehearsal in the Abbey Road Studios, London, December 2009 (photo: Pieter de Rooij)
I consider Valentina Lisitsa a once-in-a-generation pianist and one of the best classical pianists ever. To illustrate my words I'll present below ten videos of Valentina that show the immense range of her musical powers. Most of these videos are from her Youtubechannel, which is actually the world's best visited channel of a classical pianist. I also would like to refer to my Youtube video-documentary on Valentina's Rachmaninoff recording project with the London Symphony Orchestra that can be found on my Youtubechannel, along with other videos I made last year in London of Valentina talking and playing. If you live in Holland and you like classical piano then don't miss this great opportunity to hear the one and only Valentina Lisitsa live on stage in May 2010 in Leiden and Rotterdam.
1. Rachmaninoff / Etude Tableau Op 39 No. 6 "Little Red Riding Hood"
2. Liszt / Totentanz

3. Rachmaninoff / Piano Concerto No.2 minus orchestra, 2nd movement

4. Rachmaninoff / Piano Concerto No.1, 1st movement, Cadenza (my recording)

5. Chopin / Etude Op 25 No.12

6. Chopin / Etude Op. 25 No. 6

7. Chopin / Etude Op 25 No.7

8. Schubert/Liszt / Schwanengesang #13, Die Taubenpost

10. Robert Schumann / Traumerei