De viool is bij uitstek het instrument om de menselijke stem na te bootsen en niemand kan dit beter dan de Indiase violiste Kala Ramnath, begenadigd vertolkster van Noord-Indiase raga's. Zij kan haar instrument laten zingen en dat levert haar de bijnaam 'zingende viool' op.
Op 29 februari schets ik in het eerste halfuur van mijn programma Gharana -over scholen en stijlen binnen de Noord-Indiase ragamuziek- een portret van de 40-jarige violiste in mijn engelstalige documentaire Kala Ramnath- The Singing Violin.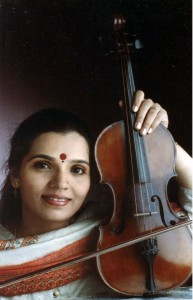 Kala strikes the pose (klik op de foto om te vergroten)
Kala woont al twintig jaar in Mumbai, maar is geboren en getogen in Madras, in een muzikale familie die zowel in de Noord-Indiase als de Zuid-Indiase ragamuziek excelleert en behalve zijzelf op viool nog drie wereldberoemde namen heeft opgeleverd: haar guru en tante N. Rajam, haar oom T.N. Krishnan en haar nicht Sangeeta Shankar.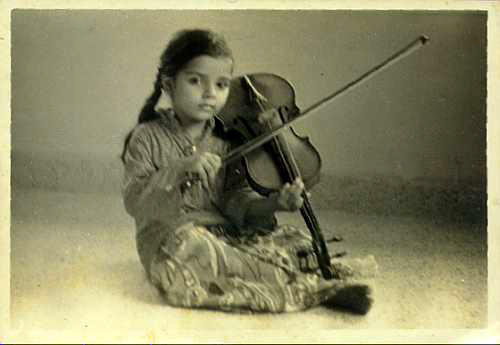 Kala leert vanaf het begin op een 'grote mensen'-viool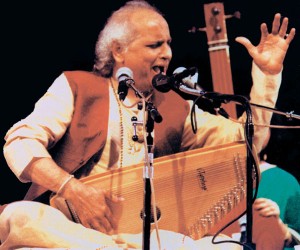 Kala's guru Pandit Jasraj (klik op de foto om te vergroten)
Niet alleen Kala komt aan het woord, maar ook haar guru, zanger Pandit Jasraj (geb. 1930), die wordt beschouwd als India's grootste levende vertolker van de Noord-Indiase raga en momenteel als enige de meest prestigieuze muzikale eretitel mag bekleden, namelijk 'sangeet martand', oftewel de 'zon in de muziek'. Pandit Jasraj is vol lof over Kala: 'Wat kan ik zeggen, zij is alles in muziek, niemand op viool in Noord-India komt in de buurt van haar niveau.' In mijn programma komen woorden van dezelfde strekking van Derek Roberts, een invloedrijke producer van Indiase klassieke muziek voor het label Sense World Music: 'We hebben hier echt te maken met een unieke viooldynastie. Kala's tante N. Rajam is een legendarische violiste die van enorme betekenis is geweest voor de viool in India. Zij heeft een zeer verfijnde, ietwat ingetogen speelstijl. Kala heeft deze kwaliteiten ook in huis, maar heeft tegelijkertijd een hele uitbundige, avontuurlijke persoonlijkheid. Ze slaagt er wonderwel in beide kwaliteiten in haar vioolspel te verenigen. Die combinatie van extreme gevoeligheid en grote uitbundigheid in haar spel is heel bijzonder. Ik denk dan ook dat Kala momenteel de grootste violiste is van Noord-India.'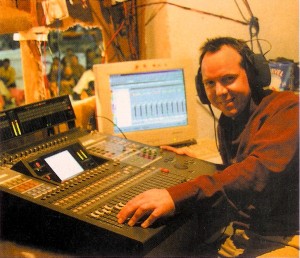 Producer Derek Roberts (klik op de foto om te vergroten)
De viool mag dan Westers zijn, voor het vertolken van raga's zijn de speeltechniek, de speelhouding –men zit op de grond- en de stemming van het instrument heel anders dan in het Westen. In Indiase ragamuziek gaan versieringen van de melodie veelal gepaard met 'glijdende tonen', waarbij subtiele overgangen in de kleinste toonsafstanden, microtonen, van cruciaal belang zijn. Behalve deze techniek verstaat Kala de kunst om lange frasen, die in-één-adem gezongen worden, ook als zodanig op de viool te reproduceren. Zij ontwikkelde daartoe een volmaakte strijktechniek die het mogelijk maakt lange frasen ononderbroken te spelen, zonder dat het 'wisselen van streek' de luisteraar nog opvalt.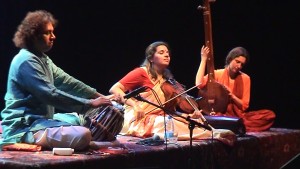 Kala tijdens een door mij gefilmd concert bij RASA in Utrecht (foto: Pieter de Rooij / klik op de foto om te vergroten)
Naast de klassieke Noord-Indiase raga speelt Kala Ramnath ook veel fusion. Zij speelt in diverse projecten met muzikanten uit de wereld van jazz, Afrikaanse muziek, flamenco en Westerse klassieke muziek. In de documentaire is Kala te horen met haar fusiongroep Yashila en met de Spaanse flamencogitarist Eduardo Niebla. Na de documentaire volgen nog een uur lang diverse opnamen – wederom klassiek-Indiaas en fusion – met onder andere opnamen van het KIT Tropentheater-concert van najaar 2007 van Kala Ramnath's fusion-groep 'Four Elements'. Hierin speelt zij met de Nederlandse jazzgitarist Jan Kuiper, tablaspeler Niti Ranjan Biswas en de Marokkaanse percussionist Rhani Krija. Met veel muzikale potjes op het vuur trekt Kala zo voortdurend de hele wereld over en heeft ze in de muziek haar grote levensvervulling gevonden. In haar eigen woorden: 'Music is my religion, it's my prayer, it's everything for me.'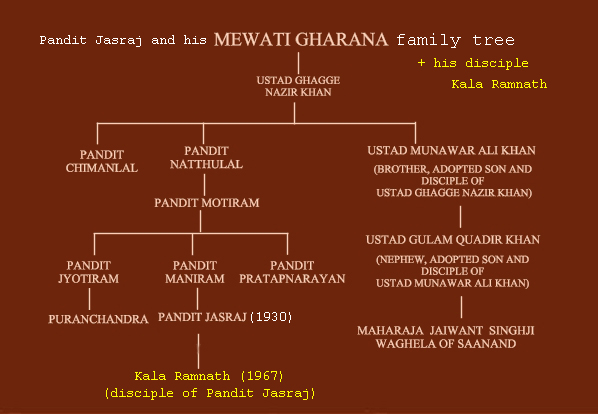 Familiestamboom van Pandit Jasraj binnen de Mewati Gharana + Kala Ramnath (klik op de foto om te vergroten)
Kala krijgt wereldwijd lof en waardering van pers en publiek en zij won al vele belangrijke muziekprijzen, waaronder de Surmani, Sur Ratna en Pandit Jasraj Gaurav awards. Na het afmonteren van mijn programma kwam mij ter ore dat Kala binnenkort een van de meest prestigieuze Indiase staatsprijzen voor muziek gaat ontvangen: de 'Kumar Gandharva Award', de Staatsprijs voor de beste Indiase musicus beneden de 45 jaar. De prijs wordt haar op 8 april uitgereikt, maar al op vrijdag 29 februari kun je in Gharana horen waarom haar die grote eer te beurt valt.
De Concertzender – Gharana – Kala Ramnath, de zingende viool van India – vrijdag 29 februari 2008, 20.00-21.30u