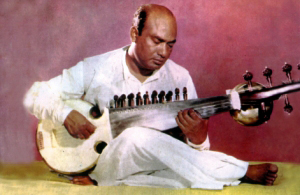 Sad news, a pillar of Indian Classical Music has fallen… Ali Akbar Khan passed away on Friday 19 June 2009. The one time I heard him live in the Mozes en Aäronkerk in Amsterdam in the eighties was an overwhelming experience, an unforgettable concert. Fortunately we can all access more than fifty years of good recordings of this no longer living legend.
There's a lot of video footage of him too, for instance watch & listen him playing in a beautiful performance of Raag Brindabani Sarang, a clip that was published on 19 june(!) 2007.
Good comfort is that his music lives on forever!