Tag Archives:
Senia Maihar Gharana

"When I am silent, I fall into the place where everything is music."
Rumi (1207-1273)
The exceptional/fabulous & one and only Nikhil Banerjee lived up to his own words: "My approach to music is very deep. I do not believe in compromise. My music is based on spiritualism and was practiced to know the Supreme Truth. A musician must lift up the soul of the listeners." The footage of Nikhil Banerjee's playing in the video above – taken from a wonderful documentary by Steven Baigel – wonderfully illustrates his statement. It's priceless stuff that lifts up my soul ! 🙂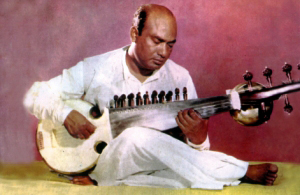 Sad news, a pillar of Indian Classical Music has fallen… Ali Akbar Khan passed away on Friday 19 June 2009. The one time I heard him live in the Mozes en Aäronkerk in Amsterdam in the eighties was an overwhelming experience, an unforgettable concert. Fortunately we can all access more than fifty years of good recordings of this no longer living legend.
There's a lot of video footage of him too, for instance watch & listen him playing in a beautiful performance of Raag Brindabani Sarang, a clip that was published on 19 june(!) 2007.
Good comfort is that his music lives on forever!