My edition of Concertzender's 60-minute radioprogramme Wereldmineralen on 2 September 2010 features recent releases of African and Asian world music. You can listen to the programme via www.concertzender.nl , broadcast time is 19.00-20.00hrs (dutch time). After broadcast you can listen 'on demand' via this link.
In the first half hour there's African music, starting with the album 'La Difference' of Salif Keïta from Mali, followed by the album 'Télévision' of Baaba Maal from Senegal. Then there's a selection of recently released seventies Afrobeat-music from the sampler album 'Nigeria Afrobeat Special'. In the second half hour the programme features new releases with music from Asia, starting with the album 'He who travels far' (release in September 2010) of Chinese-Mongolian band Hanggai. This group blends rock with traditional Mongolian music and overtone singing. The final part of the programme features music from the album Stringstruck by sitar maestro Purbayan Chatterjee.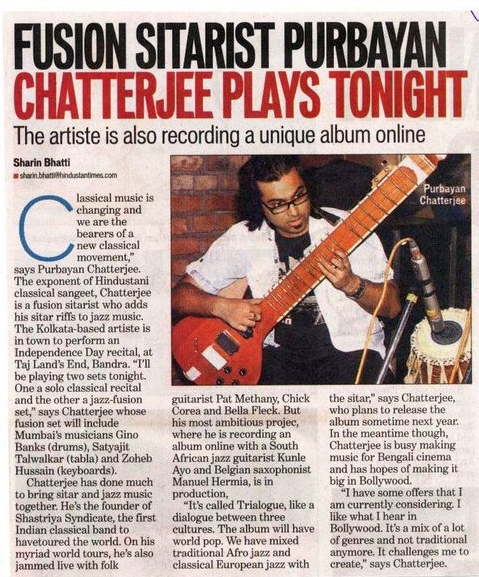 An article on Purbayan Chatterjee's recent fusion projects / In: Hindustan Times, August 15th, 2010
With his band Stringstruck Purbayan Chatterjee created an album of fusion music that earned him in July 2010 the award of 'world music album of the year' in India. Pleasant and striking surprises on Stringstruck are Purbayan Chatterjee's singing and his playing on the dwo, an electric sitar.
Playlist of Wereldmineralen:
Titel: La Différance
Tijdsduur: 04'04
Uitvoerende: Salif Keïta
Componist: Salif Keïta
Album: La Différance
Label en Jaar: Universal Music 000422 88240266 ; P en C 2010
Titel: Papa
Tijdsduur: 06'58
Uitvoerende: Salif Keïta
Componist: Salif Keïta
Album: La Différance
Label en Jaar: Universal Music 000422 88240266 ; P en C 2010
Titel: Télévision
Tijdsduur: 07'04
Uitvoerende: Baaba Maal
Componist: Baaba Maal, B. Reynolds
Album: Télévision
Label en Jaar: PALM BEC5772521 ; P en C 2009
Titel: International
Tijdsduur: 03'11
Uitvoerende: Baaba Maal
Componist: Baaba Maal, B. Reynolds
Album: Télévision
Label en Jaar: PALM BEC5772521 ; P en C 2009
Titel: Who're You?
Tijdsduur: 08'42
Uitvoerende: Fela Ransome Kuti
Componist: Fela Ransome Kuti
Album: Nigeria Afrobeat Spexial
Label en Jaar: Soundway SNDWCD021 ; C 2010
Titel: Hankuri
Tijdsduur: 04'18
Uitvoerende: Madman Jaga
Componist: Madman Jaga
Album: Nigeria Afrobeat Spexial
Label en Jaar: Soundway SNDWCD021 ; C 2010
Titel: Cha
Tijdsduur: 03'53
Uitvoerende: Hanggai
Componist: Hanggai
Album: He Who Travels Far
Label en Jaar: World Connection WC 039 ; P en C 2010
Titel: Dorov Morlaril
Tijdsduur: 05'30
Uitvoerende: Hanggai
Componist: Hanggai
Album: He Who Travels Far
Label en Jaar: World Connection WC 039 ; P en C 2010
Titel: Golden bangle
Tijdsduur: 04'06
Uitvoerende: Hanggai
Componist: Hanggai
Album: He Who Travels Far
Label en Jaar: World Connection WC 039 ; P en C 2010
Titel: Dwo Bickram Ghosh Mix
Tijdsduur: 05'45
Uitvoerende: Purbayan Chatterjee
Componist: Purbayan Chatterjee
Album: Stringstruck
Label en Jaar: Times Music 885444227394 ; C 2010
Titel: Shadowlights
Tijdsduur: 08'22
Uitvoerende: Purbayan Chatterjee
Componist: Purbayan Chatterjee
Album: Stringstruck
Label en Jaar: Times Music 885444227394 ; C 2010
Samenstelling: Pieter de Rooij