On tuesday 23 November 2010 at 23.05 PM German public radiostation WDR3 portrays phenomenal 30-year old (and my favourite) ragasinger Kaushiki Desikan Chakrabarty from Calcutta.
Earlier, on 10 November 2010 WDR3 devoted a radio evening on Kaushiki, with a live broadcast of her concert in Bielefeld, a very beautiful performance that was described by renowned ragaspecialist Jan Reichow as "Das außergewöhnlichste, ergreifendste, intelligenteste, fröhlichste, innovativste Konzert Europas". He's not exaggerating. Kaushiki has it all and when you hear her live on stage her voice is able to touch your heart and soul deeper than you ever could have imagined… I'm saying this with great conviction as I'm speaking from my own wonderful experiences with hearing Kaushiki live in concert (at the Darbar Festival in 2008 in Leicester, and in 2007 in the Tropentheater in Amsterdam).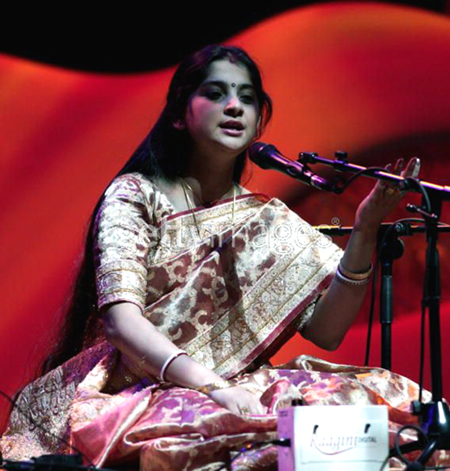 Kaushik performing in London in 2005, after she received the BBC3 World Music Award
WDR3 radio provides the following information for the radiobroadcast on 23 November 2010: Kaushiki Desikan Chakraborty gehört zu den großen Talenten der jungen Generation. Im Gegensatz zu früher dürfen Nachwuchskünstler heute schon viel früher ihr Können öffentlich zeigen. Kaushiki ist erst 30 Jahre alt und schon eine anerkannte Sängerin auf den großen Bühnen Indiens. Sie hat eine betörende Stimme und ein für ihr Alter ungewöhnliches technisches Vermögen. Die Pflege der alten Tradition ist ihr erklärtes Ziel. In diesem Sinne ist sie, obwohl jung, eine wertkonservative Künstlerin – mehr noch: sie trägt mit ihrer Haltung zum Überleben des klassischen indischen Geangs bei. Anlässlich ihres Bielefelder WDR-3-Konzerts vor knapp zwei Wochen erzählte Kaushiki unserer Autorin Clair Lüdenbach von ihrer Kunst und aus ihrem Leben.
If you like ragamusic you really should listen on tuesday 23 November at 23.05 PM to this WDR3-radio broadcast devoted to Kaushiki.