A big 'Hurray' for pianist Valentina Lisitsa!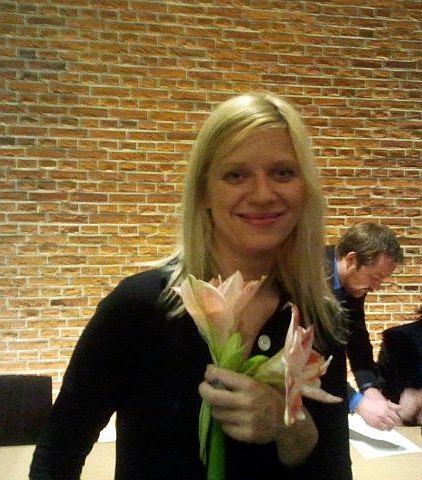 A picture I took of Valentina after her recital in Haarlem
What a musical triumph on Friday night 27 January 2012 in Haarlem, where Valentina played a recital. It was stunning-superb! In contrast to her recital in Delft on January 22nd – where she played on a terrible Yamaha – the stage in Haarlem offered far better conditions to help improve the performance and to stimulate Valentina to give her best. The Philharmonie in Haarlem had (from my position in the middle of its hall) good acoustics and Valentina played on a well prepared Steinway and – very crucial – one on which she had been practicing the past few days with good guidance of a piano technician. It paved the way to push Valentina to yet another extraordinary musical result. She played an astonishing programme, that covered many composers and a huge array of emotions: Beethoven's Sonata No.26, Schumann's Kinderszenen, Thalberg's Grande Fantaisie Op.63, five Chopin Nocturnes and Liszt's Totentanz.
Her touch ranged from the utmost delicacy to the most exuberant and extreme. In some pieces I heard an angelic poet (Schumann), in some a tempting siren (Chopin), in some a devilish lady with stainless steel in her mighty hands (like no one else really and totally amazing in the Totentanz!) and in yet other pieces all these musical powers greatly combined.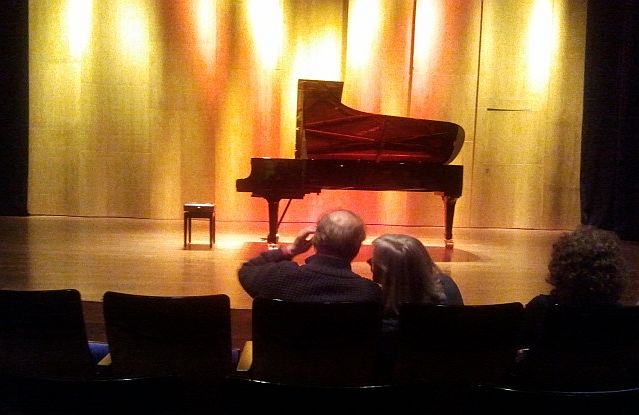 The Steinway that was put to the test by Valentina. Afterwards the instrument was diagnosed with PTS-syndrome, due to its peak-experiences on '1/27' 🙂
Throughout the evening the musical delivery was clearly articulated and expressed with subtlety in evry detail. The audience was spellbound and carried away by the eloquence of Valentina's musical tale-telling, always interesting and alternating from sheer poetry to an amazing virtuosity that doesn't look difficult for her.
There was a nice surprise at the beginning: because of Mozart's birthday – on January 27th – Valentina started her recital with a brilliant execution of his Fantasia in C-minor, KV475. Then the programme unfolded as mentioned. The audience's great enthusiasm (there was already a standing ovation before the break) was rewarded with three marvellous encores: first Schubert's 'Ave Maria' (arranged by Liszt), then the charming Chopin Nocturne in E Flat Major Op.9, No.2 and Valentina ended with a mighty virtuoso-bravura piece: Liszt's Hungarian Rhapsody No.12.
This was a night to remember. Wow!