Beginning of February 2012 multi-talented dancer Meenakshi Srinivasan tours in Holland and Belgium. She's one of the most prominent performers of the classical temple dance bharata natyam, a dance style originating from South India with its earliest roots dating back to 1000 B.C. The repertoire of this traditional dance style is based on old choreographies depicting the classical myths and legends of Hindu deities.
Meenakshi doesn't confine herself to tradition only. Based on modern themes and ideas she also creates new choreographies by combining the language of the bharata natyam with modern dance techniques. Meenakshi's dancing is highly stylised and energetic, but looks playful and effortless at the same time.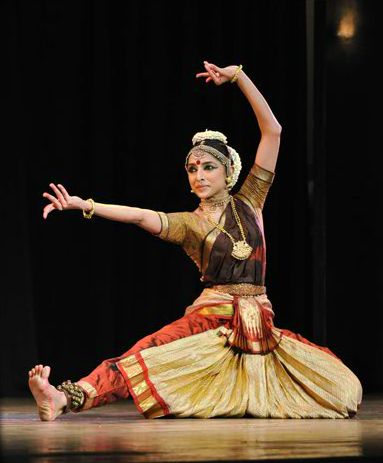 Her performances in The Netherlands and Belgium are accompanied by voice, violin, nattuvangam (little cymbals) and mridangam (a two-sided drum). Meenakshi Srinivasan is a must for people interested in traditional and modern dance and in Indian classical music.
Tour Schedule (date – location / time):
Friday 3 February 2012 – Antwerp, Zuiderpershuis / 20:30
Saturday 4 February 2012 – Utrecht, RASA / 20:30
Sunday 5 February 2012 – Amsterdam, Tropentheater / 15:00
Thursday 9 February 2012 – The Hague, De Regentes / 20:15