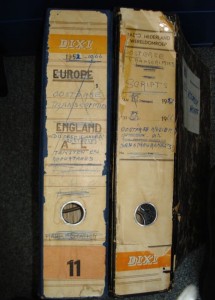 It's certainly been too long – but better late, than never – since I announced to write on some of the interesting documents I found three years ago at Radio Netherlands from the legacy of Peter van Hoboken (1901-1994), Head of Transcription Service at Radio Netherlands from 1948 to 1966 and one of the great pioneers and promotors of Indian classical music in the Netherlands*. For several decades already there has been another and bigger Van Hoboken-collection that is incorporated in the Felix van Lamsweerde-collection, but most of the material that I came across at Radio Netherlands is different and therefore an interesting addition to the material that was known already.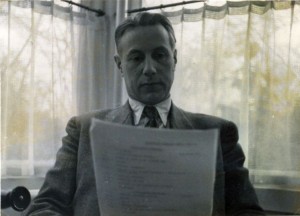 Peter van Hoboken in his office at Radio Netherlands
From here I'd like to refer to these documents as the Radio Netherlands Hoboken Collection, abbreviated as RNHC. My find in January 2002 of a unique recording by Radio Netherlands in 1957 of sitarist Ravi Shankar already illustrated the great value of Peter van Hoboken, who organised this recording. As an adept of Indian classical music and dance Van Hoboken organised recordings of concerts in The Netherlands and he produced many Radio Netherlands programmes on Indian classical music.

At this point I want to proceed with some interesting documents I found among the RNHC, concerning radiotalks done in 1950 by world famous dutch ethnomusicologist Arnold Bake (1899-1963), radiotalks Bake did in english and hindi about the musical life and culture of India, recorded for the Radio Netherlands Transcription Service to be distributed to presumably India and Surinam for broadcasts by stations over there. What I found of these radiotalks is only paperwork, Bake's typed scripts along with his handwritten corrections. Unfortunately, the recorded tapes can't be found in the Radio Netherlands Audio Archives, as these were sent to stations outside Holland, the main task of the Transcription Service.
It's a great pity the recordings of Bake can't be found in the archives of Radio Netherlands. I've asked Felix van Lamsweerde and they're not in his Van Hoboken Collection. I would assume that they could have been stored in the Arnold Bake Archives, kept at the University of Leiden, but Felix and another expert, Fred Gales, told me that the collection over there contains only papers of radiotalks and not recordings. So, if not in Hilversum and not in Leiden, where can they be? Did the Radio Netherlands Transcription Service sent them to All India Radio and/or to Surinam or are they kept somewhere at the University of London's School of Oriental & African Studies where Bake lectured? At this point I can't believe they're lost. I hope they can be found somewhere, as I'd like to hear how the scripts I found in Hilversum come alive in a radio transmission with Bake's voice and with the music he talks about.
The radiotalk-script I like to present here contains Bake's thougths on India's world famous writer, poet, philosopher and Nobelprize winner Rabindranath Tagore (1861 – 1941), in particular on 'Tagore and his music' and when I publish this it's 7 May 2011, precisely the 150th birthday of Tagore. So, yes, this update on the RNHC took me too long, but I think I'm right on time with presenting these particular papers. 🙂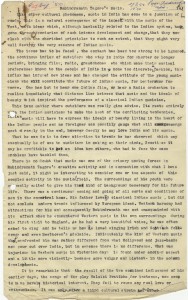 scriptpage 1, click a few times on the photo to enlarge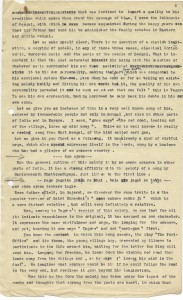 scriptpage 2, click a few times on the photo to enlarge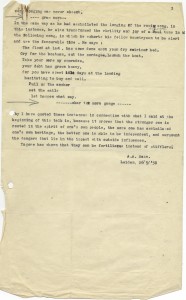 scriptpage 3, click a few times on the photo to enlarge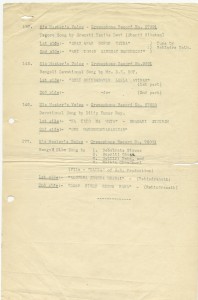 scriptpage 4, click a few times on the photo to enlarge
Let me add that I consider my short writings here on the RNHC as a work in progress. I don't wanna pretend that I know all the details or have all the answers. That would be stupid and a false claim. If someone sees mistakes or things I overlook or has interesting additional information, please let me know.
* Radio Netherlands and Peter van Hoboken's son Alexander have given me permission to publish these documents and write about them.