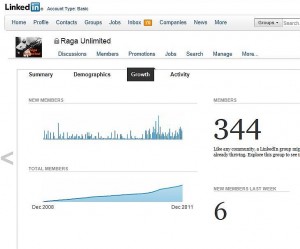 Raga Unlimited growth rate figures (click on picture to enlarge)
The LinkedIn-group that I run, Raga Unlimited, launched on 12 December 2008, has now 344 members. Anyone interested and registered on LinkedIn can join, that is, after (my) admission (don't worry, there have been no refusals so far). A lot of knowledgeable people show up in the ranks. 37% works in the music industry and 16% is active in arts & design. In 2011 the group's membership figure more than doubled, from 150 to 343, that's an increase of 193 members in one year. Most people joined in May (28x), June (29x) and December (29x). Today, New Year's Day 2012, I've already welcomed one more newbie, so we're talking about a membership growth rate of 1 per day so far this year :).


The group's 'mission statement' (click on picture to enlarge)
Feel free to join if you're interested.