Tag Archives:
Add new tag

Great live recording, Moses & Aaron Church, Amsterdam, 1985

Zia Mohiuddin Dagar on rudra veena, marvellous playing and recording
I think this is great, an interview in three parts with brilliant and versatile veena-player Jayanthi Kumaresh, a carnatic artist whose work I've been following for years. I hugely admire her playing and I really hope to meet and interview her one day.

Interview – Part One

Interview – Part Two

Interview – Part Three
"Liederen uit de hele wereld klinken in de huizen. Wie heeft er nog aandacht voor een traag oud lied, dat vroeger de lange winteravonden kortte of een eindeloze werkdag op het land?"
Op 23 juli 2010 is op 84-jarige leeftijd de Nederlandse radiomaker en volkskundige Ate Doornbosch overleden. Hij is op 29 juli gecremeerd. Doornbosch presenteerde van 1957 tot 1993 dertienhonderdzestien keer het populaire radiopogramma 'Onder de Groene Linde' waarin hij overal in Nederland mensen thuis bezocht en opnamen maakte van door henzelf gezongen, mondeling overgeleverde liederen. Doornbosch legde op die manier zo'n 5000 traditionele liederen vast. Zijn inspanningen leverden een imposant archief op dat in Amsterdam wordt beheerd door het P.J. Meertens Instituut.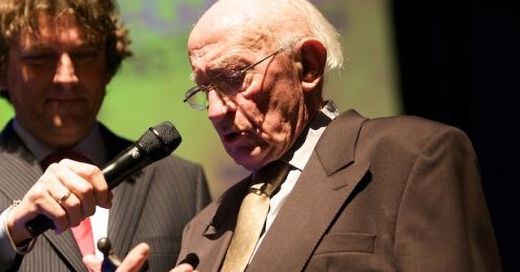 Ate Doornbosch ontvangt in 2009 een Edison voor zijn werk