On 21 september 2008, the Belgian Radio 2 hour-programme Hemel en Aarde (Heaven and Earth) features Indian classical music by some of my favourite top artists in North Indian hindusthani music, with an unreleased recital by ragasinger Kaushiki Chakrabarty. She's accompanied on tabla by Samar Saha and on harmonium by her husband, Parthasarathi Desikan. It concerns a live concert recorded on 3 october 2004 at Kong in Gent, Belgium. Kaushiki was then only 24 years of age. 2004 was also the year her album 'Pure' was released, the album that won her the BBC World Music Award in 2005. In her recital she sings Raga Bilashkani Todi : Bara Khyal, vilambit in ektaal (12 beats) and Chhote Khyal, drut in teentaal (16 beats), a carnatic (South Indian Classical) song – a Tillana in raga Kuntalavarali – and the closing piece of her recital is a bhajan (a devotional song in light classical style).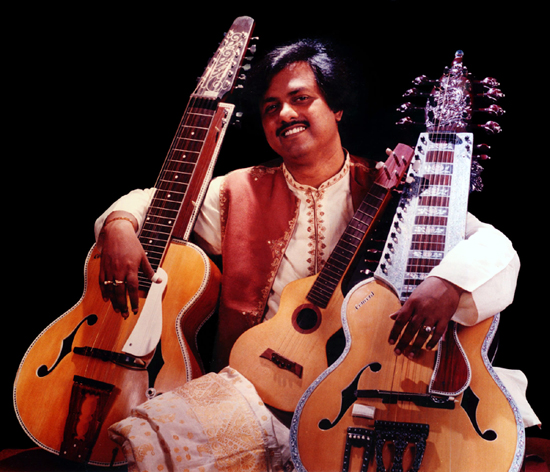 Debashish Bhattacharya

The programme also features music by slide guitar player Debashish Bhattacharya (BBC World Music Award winner in 2007) accompanied by the fabulous tabla player Subashish Bhattacharya (Debashish's brother), music by legendary violin player N. Rajam, with backing violin by her daughter Sangeeta Shankar and tabla accompaniment by Chotelal Misra and also music by sarod player Asad Qizilbash who's accompanied on tabla by Mustafa Khan.

Hemel en Aarde is produced and presented by Paul Rans. You can respond on the programme via email: hemelenaarde@klara.be
You can listen online via internet, but I wll surely listen via my internet radio, providing better audio quality.
The playlist of the programme:
Debashish Bhattacharya, Indian slide-guitar; Subhashish Bhattacharya, tabla: Kolkata to Kanyakumari (Comp. Debashish Bhattacharya) – CALCUTTA CHRONICLES RIVERBOAT RECORDS TUGPR1049 – [0:08:43]
Kaushiki Chakrabarty, zang; Pandit Samar Saha, tabla; Parthasarathi Desikan, harmonium: Raga Bilashkani Todi : Bara Khyal, vilambit in ek-tal (12 tellen) en Chhote Khyal, drut in teen-tal (16 tellen) (Comp. Trad.) – OPNAME KLARA – [0:43:05]
Debashish Bhattacharya, Indian slide-guitar; Subhashish Bhattacharya, tabla: Rasika (naar een trance) (Comp. Debashish Bhattacharya) – CALCUTTA CHRONICLES RIVERBOAT RECORDS TUGPR1049 – [0:08:15]
Debashish Bhattacharya, Indian slide-guitar; Subhashish Bhattacharya, tabla: Aviskaar (renaissance) (Comp. Debashish Bhattacharya) – CALCUTTA CHRONICLES RIVERBOAT RECORDS TUGPR1049 – [0:08:28]
Kaushiki Chakrabarty, zang; Pandit Samar Saha, tabla; Parthasarathi Desikan, harmonium: Tillana – Karnatische raga Kuntalavarali (Comp. Trad.) – OPNAME KLARA – [0:07:45]
Kaushiki Chakrabarty, zang; Pandit Samar Saha, tabla; Parthasarathi Desikan, harmonium: Bhajan (Comp. Trad.) – OPNAME KLARA – [0:08:25]
Dr. N. Rajam, viool; Sangeeta Shankar, tweede viool; Chhotelal Misra, tabla: Chait masi saiyan nahin aaye (taal chachar) (Comp. Trad.) – LIGHT TUNES FROM BENARES – CDNF 150109 – [0:10:35]
Asad Qizilbash, sarod; Mustafa Khan, tabla: Raga Bihag (Comp. Trad.) – LIVE IN PESHAWAR – SUB ROSA SR283 – [0:13:54]