Hector Zazou

Yesterday I felt dismayed when I read on the web that french world music pioneer Hector Zazou died last week, at the age of 60. Dismayed, also because a few weeks ago I've heard that a new album of his, 'In the House of Mirrors', is bound for release later this month. Now it turns out that his new album will be a posthumous release.

What Brian Eno is for England, Hector Zazou is for France. I greatly admire the way Zazou created soundscapes with a very unique eclectic touch of his own and managed to combine all kinds of world music with daring and adventurous electronic sounds. He always did this with great subtlety and a unique sense of beauty and was always looking for new ways to achieve this. Today I've been listening to some of his music I really cherish, 'Songs from the Cold Seas' and 'Sahara Blue', albums sounding as fresh today as upon their release.

I found this information on Zazou's new upcoming album 'In the House of Mirrors':
On his new album 'In the House of Mirrors' Zazou invites four outstanding instrumentalists from India and Uzbekistan to step into a virtual hall of mirrors, in which sound is reflected from one note to another. (..) the ever-innovative Hector Zazou offers a fresh take on classical Asian music, in which the musicians' inspired performances are enhanced by his subtle reprocessing of the original sonic elements (no supplementary electronic sounds having been used). The album was recorded in Mumbai with a core group of four musicians: Toir Kuziyev (tambur & oud), Milind Raykar (violin), Ronu Majumdar (flute) and Manish Pingle (Indian slide guitar). Guest players on the album include Spanish flute player Carlos Nuñez, Nils Petter Molvaer on trumpet, flamenco pianist Diego Amador, Hungarian violinist Zoltan Lantos and percussionist Bill Rieflin (currently with R.E.M.).
"Notes and resonances create waves which drive the instrumentalist to dive from the surface into the very heart of the sound", explains Zazou. "The use of sound processing and reflections thus interacts with the way the musicians play, and reinforces the spiritual aspect of the music, just as church acoustics do with Gregorian chant."
Through its use of these reflection systems, 'In The House Of Mirrors' might also be viewed as a discreet homage to the music produced in the '70s by the likes of Terry Riley and Fripp & Eno, translated for the first time into a classical Asian environment.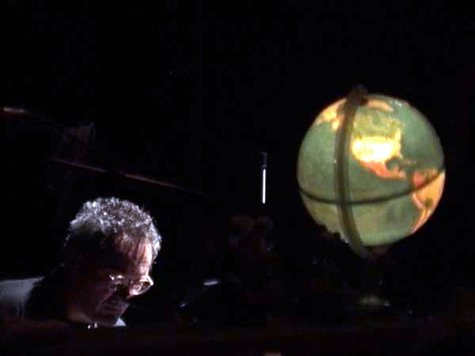 Hector Zazou in a concert performance

I'll look out for this new album and will always cherish Zazou's unique earlier output, some of which has proven to be landmark-contributions in the realm of fusing contemporary, ambient, world and electronic music. Zazou was France's eclectic wizard of crosscultural music. May his music flourish and may his soul rest in peace, soothed by heavenly music close to his own.