Yesterday I published a new video of pianist Valentina Lisitsa, containing footage of not formerly published segments of an interview with her about – primarily – Rachmaninoff. I revisited and reconsidered some of my unpublished footage and photos, resulting in this new video, I thought it would be worthwhile to share it with the YouTube audience.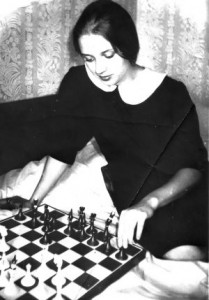 Still from my video (at 12'54") and from another era it seems… Valentina as a youngster playing chess.
Earlier on I already produced and published on YouTube a documentary on Valentina's Rachmaninoff Project with the London Symphony Orchestra. The fabulous recordings done in the Abbey Road Studios in 2009 and 2010 will be released later on in 2012 by Decca.