From 12 to 30 november 2008 the Concertgebouw and a number of other cultural venues in Amsterdam organise a spectacular festival devoted to India, The Amsterdam India Festival.

On Friday 31 october 2008 my radio programme Gharana on Indian classical music previews the festival's musical programme by having a look at the scheduled ragaconcerts with dutch musicologist Joep Bor, an internationally acclaimed researcher in the field of raga music. I interview him -in dutch- not only because of his expertise on the subject but also because he's done the festival's programming of raga concerts. Joep Bor is a researcher and a musician. He plays the sarangi and lived for many years in India while doing research and learning from great gurus, among them the great sarangi maestro Ram Narayan. He's the author of 'The voice of the sarangi' -a classic on the subject- and of the internationally renowned 'Raga Guide'. In 1990 he initiated the World Music Department at the Rotterdam Conservatory and under his management the Indian Music education programme became very succesful. Joep Bor is currently professor in extra-European performing arts studies at Leiden University.
In the Gharana-special devoted to the Amsterdam India Festival Joep Bor tells me about the festival's aims, the raga artists he invited, the interplay between Indian music and the West and about the interest in ragamusic in The Netherlands from a historical point of view.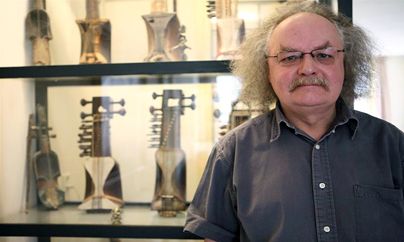 Joep Bor
There will be great music in the programme by fabulous artists that are being talked about and who'll perform in the Amsterdam India Festival: Zakir Hussain (tabla), The Gundecha Brothers (dhrupad-zang), Amjad Ali Khan (sarod), Ashwini Bhide (khayal-zang), Ulhas Kashalkar (khayal-zang), L. Subramaniam (viool) and Hariprasad Chaurasia (bansuri).
Gharana will be broadcast on 31 october 2008, 20.00-21.30hrs (dutch time). You can listen to Gharana via www.concertzender.nl, see also my Gharana-promo. After broadcast you can also listen 'on demand' whenever you want.
Don't miss the fabulous music in the programme and Joep Bor's expert view on the Amsterdam India Festival!
Playlist:
Amsterdam India Festival, promo-video van Het Concertgebouw,
geplaatst op Youtube, 1 oktober 2008.
titel: Alla
uitvoerende: Zakir Hussain
componist: Zakir Hussain
album: Tabla Beat Science
label en jaar: Axiom PALMCD 2046-2 ; P en C 2000
titel: Raga Yaman – Jor
uitvoerende: Gundecha Brothers
componist: trad.
album: Temple Voices
label en jaar: Sense World Music 103 ; P en C 2008
titel: Raga Bahar – Composition In Jhaptaal
uitvoerende: Ustad Amjad Ali Khan
componist: trad.
album: Music from the 13th Century
label en jaar: Navras ; C 2005
titel: Raga Jaunpuri – Khyal in Jhaptal
uitvoerende: Ashwini Bhide
componist: trad.
album: Women Through The Ages
label en jaar: Navras 1581628 ; C 1999
titel: Raga Malkauns – Vilambit Khayal
uitvoerende: Ulhas Kashalkar
componist: trad.
album: Nilaya
label en jaar: Sense World Music 086 ; P en C 2007
titel: Raga Sivapriya
uitvoerende: L. Subramaniam
componist: trad.
album: Three Ragas for solo violin
label en jaar: Nimbus 5323 ; C 1991
titel: Raga Chandrakauns
uitvoerende: Hariprasad Chaurasia
componist: trad.
album: Fabulous Flute
label en jaar: Chhandra Dhara SP 10185 ; P 1985