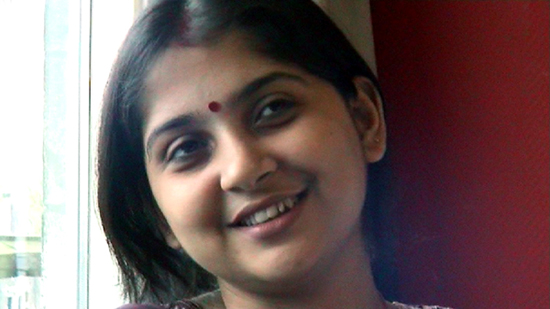 Kaushiki Chakrabarty
This year's spring I reported in a blog on the Darbar Festival 2008 in Leicester that I considered Kaushiki Chakrabarty's breathtaking concert as the festival's absolute highlight. When renowned music journalist/radio producer Jameela Siddiqi did two World Routes-specials on the festival for BBC Radio 3 later on in May many artists and their Darbar performances were featured, but not Kaushiki. At this point I didn't get it why her fantastic performance was overlooked completely, especially since I knew Jameela had done an interview with Kaushiki at Darbar. Now, looking at BBC's next weekend programme schedule I understand why Kaushiki was not in the two radiospecials on Darbar earlier this year. BBC Radio 3's World Routes apparently scheduled another unknown route for me, cause now it turns out that the programme of Saturday 6 september 2008 is completely dedicated to Kaushiki's concert at Darbar 2008. Wow! Great!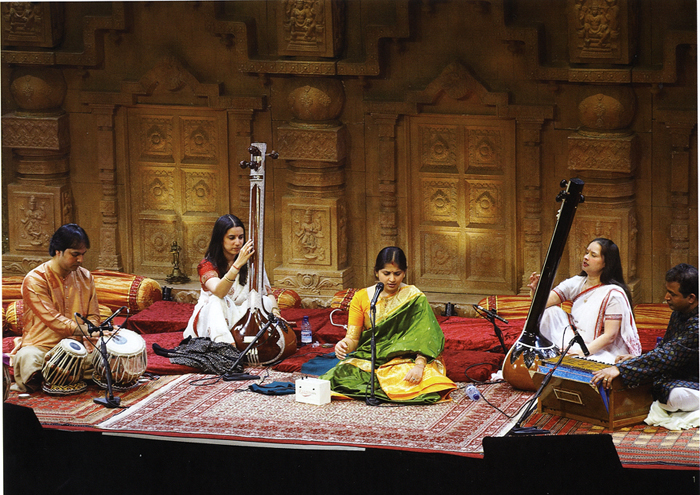 Kaushiki performing at Darbar 2008 ; line up, left to right: Sanju Sahai (tabla), Ranjana Ghatak (tanpura), Kaushiki Chakrabarty, Debipriya Das (tanpura), Ajay Joglekar (harmonium) ; photo: Arnhel de Serra
BBC Radio 3's publicity provides this information:
Though still only in her twenties, Kaushiki Chakrabarty has become one of the most revered singers in Indian classical music. Jameela Siddiqi introduces her performance of a single piece, Raag Abhogi, recorded for World Routes earlier this year at the Darbar Festival in Leicester. Trained by her father, singer Ajoy Chakrabarty, Kaushiki was acclaimed in her debut year by revered Indian maestro Pandit Jasraj. She first attracted attention outside India in 2005 when she won a BBC Radio 3 Award for World Music. Kaushiki is accompanied by Ajay Joglekar on harmonium and Sanju Sahai on tabla. Jameela then talks to Kaushiki about the festival, her voice and the Raag she sings in the programme. Presenter/Jameela Siddiqi, Producer/Roger Short

Kaushiki represents the very best in Indian Classical Music.
Don't miss it!
World Routes, Saturday 6 september 2008, 3.00-4.00pm BBC Radio 3