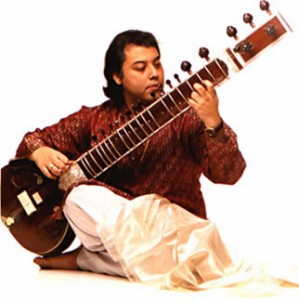 On Friday 30 January 2009 9:00 pm my 90-minute Concertzender radio programme Gharana features renowned sitarist Irshad Khan (1963). He grew up in Calcutta and now lives in Canada. He stems from one of the most musical families in the world and represents the Imdadkhani gharana, a famous school of music that's named after his great-greatgrandfather Imdad Khan (1848-1920), a legendary sitar and surbahar player. Irshad's illustrious musical ancestors can be traced back to the late sixteenth century Moghul courts where they played on the sehtar and then evolved and perfected its successor, the sitar. Irshad represents India's oldest sitar gharana and from this original school other sitar gharana's were offshoots. Irshad's family is also responsible for the creation and development of the surbahar, a bas-sitar. The surbahar was invented by Sahebdad Khan, the father of Irshad's great-greatgrandfather Imdad Khan. In this edition of Gharana Irshad Khan elaborates on his renowned musical ancestors and on his own career and music.
Irshad Khan (photo: Pieter de Rooij)

Irshad was a child prodigy, gave his first public concert in Calcutta at the age of seven and made his international debut at the age of thirteen in the Queen Elizabeth Hall in London. Apart from traditional ragamumusic and fusion by Irshad Khan the programme also features music by Irshad's father Imrat Khan and by Irshad's uncle Vilayat Khan, who's considered one of India's greatest musicians of the twentieth century. All in all a fascinating broadcast on Irshad Khan and the famous Imdadkhani gharana.
PLAYLIST:
titel: Raga Mian Malhar
uitvoerende: Irshad Khan (sitar) ; Mukundraj Deo (tabla)
tijdsduur: 02:33
componist: trad.
album: Mian Malhar
label en jaar: Legendary Legacy CD 30 ; zonder jaartal
slotfragment concert Irshad Khan Raganacht
Amsterdam India Festival, 15 november 2008
uitvoerende: Irshad Khan (sitar) ; Sandip Bhattacharya (tabla)
tijdsduur: 01:37
componist: trad.
titel: Raag Bhairavi
uitvoerende: Irshad Khan (sitar) ; Mukundraj Deo (tabla)
tijdsduur: 09:03
componist: trad.
album: Mian Malhar
label en jaar: Legendary Legacy CD 30 ; zonder jaartal
titel: Nainon Mein Tere Kajra (Moments)
uitvoerende: Irshad Khan (sitar en zang)
tijdsduur: 01:41
componist: Irshad Khan
album: Desires
label en jaar: EMI 5099950809523 ; P en C 2007
titel: Rag Jog
uitvoerende: Ustad Imrat Khan (surbahar)
tijdsduur: 04:58
componist: trad.
album: Indian Music for Sitar & Surbahar For Meditation & Love
label en jaar: Lyrichord LYRCD 7376 ; C 1991
titel: Raag Malkauns
uitvoerende: Irshad Khan (sitar) ; Anindo Chatterjee (tabla)
tijdsduur: 06:05
componist: trad.
album: Fire, Grace, Passion
label en jaar: New Dawn Productions ; P 2003
titel: Mystic Journey
uitvoerende: Irshad Khan
tijdsduur: 02:39
comp.: Irshad Khan
album: Awakenings
label en jaar: UAM 002 ; P en C 1999
titel: Nainon Mein Tere Kajra (Moments)
uitvoerende: Irshad Khan (sitar en zang)
tijdsduur: 02:10
componist: Irshad Khan
album: Desires
label en jaar: EMI 5099950809523 ; P en C 2007
titel: Raag Bhairavi
uitvoerende: Irshad Khan (sitar) ; Mukundraj Deo (tabla)
tijdsduur: 01:44
componist: trad.
album: Mian Malhar
label en jaar: Legendary Legacy CD 30 ; zonder jaartal
titel: Sindhi Bhairvee (Passion)
uitvoerende: Irshad Khan (sitar) ; Anindo Chatterjee (tabla)
tijdsduur: 10:30
componist: trad.
album: Fire, Grace, Passion
label en jaar: New Dawn Productions ; P 2003
titel: Raga Mand Bhairavi
uitvoerende: Vilayat Khan (sitar)
tijdsduur: 08:56
componist: trad.
album: Etched In Time
label en jaar: Music Today ; zonder jaartal
titel: Power of Grace
uitvoerende: Irshad Khan
tijdsduur: 07:04
comp.: Irshad Khan
album: Awakenings
label en jaar: UAM 002 ; P en C 1999
titel: Raag Mian Malhar – Gat in Madhyalaya & Drut Teentaal
uitvoerende: Irshad Khan (sitar) ; Mukundraj Deo (tabla)
tijdsduur: 21:09
componist: trad.
album: Mian Malhar
label en jaar: Legendary Legacy CD 30 ; zonder jaartal