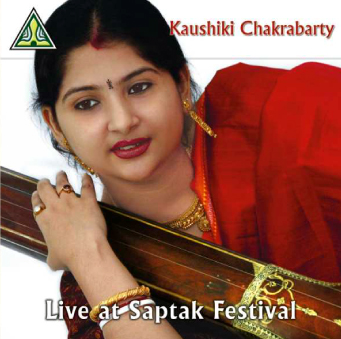 On Saturday 8 november 2008 my monthly edition of Radio 6-saturday morning programme Wereldmineralen features a WORLD PREMIERE broadcast of Kaushiki Chakrabarty's new album Live at Saptak Festival. The Sense World Music label recorded her concert at the prestigious Saptak Festival, January 2008, in Ahmedabad. On this recording Kaushiki gives an hour long performance of raga Maru Bihag, followed by a bhajan (Hindu devotional song) in the popular raga Bhairavi. She's greatly accompanied by Subashish Bhattacharya on tabla and by Ajay Joglekar on harmonium. The Sense-recording is, as ever, excellent and Kaushiki's performance is fabulous. The pre-launch of this album in my radioshow is a must-hear for evry lover of Kaushiki's singing and khayal-singing in general. In the last quarter of the programme I feature a 15-minute sequence of Kaushiki's Raag Maru Bihag, the end of the vilambit (slow tempo) part, followed by the madhyam (medium tempo) part, both breathtakingly beautiful.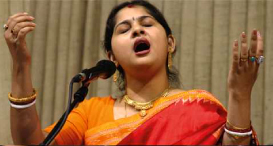 Kaushiki during her Saptak Festival 2008 concert
I'm sure, after hearing this, you want to hear the rest of the performance, which is absolutely stunning. Live at Saptak Festival will be officially released by the end of November 2008, but my programme already offers you a delightful early rendez-vous with this new exciting album.
Before the premiere of Kaushiki Chakrabarty's new album there's also great new music in my programme from other brilliant young raga performers from India. The programme starts with music from the album In The House Of Mirrors by the french producer Hector Zazou.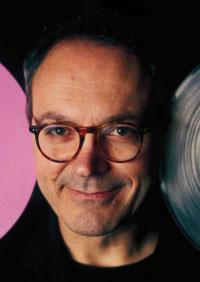 eclectic musician/producer Hector Zazou
It turned out to be his final album, because he died, after being ill for some time, at the age of 60 in september 2008. On In The House Of Mirrors Zazou works with an ensemble called 'Swara', musicians from Uzbekistan and India. A lot of the music that's being played is or is inspired by Indian raga music, and I've chosen tracks where you can listen to a.o. slide guitar player Manish Pingle and violinist Milind Raikar.
After this we move on to a jugalbandi (duet)-performance of two brilliant young musicians, North Indian hindusthani sitarist Purbayan Chatterjee and South Indian carnatic veena player Jayanthi Kumaresh.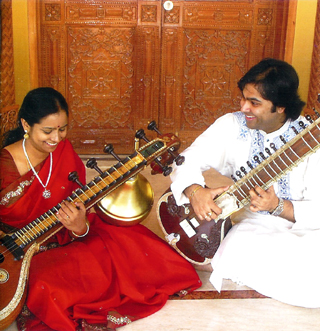 Jayanthi Kumaresh and Purbayan Chatterjee in jugalbandi
From their 2007-album Mandala they play 'Vadhya Prabandhu', a composition of their own in Raga Karaharapriya (the southern equivalent of the North Indian raga Kafi).
Before the programme moves on to Kaushiki Chakrabarty in the last fifteen minutes I feature another great young singer, the immensely talented khayal- and tappa-singer Sasha (Shashwati Mandal Paul) who hails from the Gwalior gharana.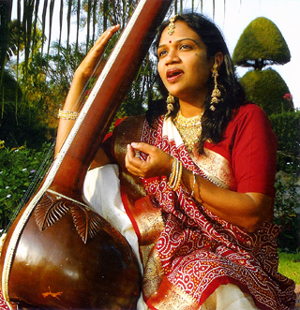 khayal- and tappa-singer Sasha
Her latest album Tappa Journey is a brilliantly recorded album featuring tappas, vibrant and passionate songs, inspired by the romance and journeys of the ancient Silk Route. The songs on Tappa Journey are arranged in an exciting new way, with orchestral strings and fantastic percussion from India and the Middle East.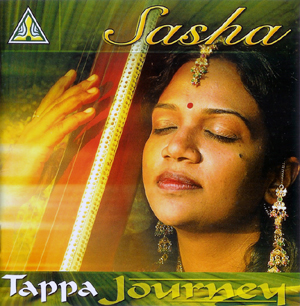 These great musicians in Wereldmineralen are only a few of the many excellent young raga performers India today has to offer. Below you'll find the playlist.
Don't miss it!
Wereldmineralen, De Concertzender's non-stop world music-hour on Saturday morning 09.00-10.00hrs (dutch time), is broadcasted on Radio 6 and via internet and is of course retrievable 'on demand' after broadcast.
PLAYLIST:
title: Wanna Mako
performer: Hector Zazou & Swara
composer: Hector Zazou & Swara
album: In The House Of Mirrors
label and year: Crammed ; C 2008
title: Attainable Border : South
performer: Hector Zazou & Swara
composer: Hector Zazou & Swara
album: In The House Of Mirrors
label and year: Crammed ; C 2008
title: Sisyphe
performer: Hector Zazou & Swara
composer: Hector Zazou & Swara
album: In The House Of Mirrors
label and year: Crammed ; C 2008
title: Raga Karaharapriya : Vadhya Prabandha
performer: Purbayan Chatterjee ; Jayanthi Kumaresh
composer: trad. arr. by Purbayan Chatterjee & Jayanthi Kumaresh
album: Mandala
label and year: Sense World Music 100 ; C 2007
title: Bhaanda Ve Maheboob – Raga Khamaj
performer: Sasha
composer: trad.
album: Tappa Journey
label and year: Sense World Music 109 ; C 2008
title: Raga Maru Bihag : Vilambit (slow tempo) ektal (12 beats)
performer: Kaushiki Chakrabarty
composer: trad.
album: Live At Saptak Festival
label and year: Sense World Music 112 ; C 2008
(album release by the end of November 2008)
title: Raga Maru Bihag : Madhyam (medium tempo) teental (16 beats)
performer: Kaushiki Chakrabarty
composer: trad.
album: Live At Saptak Festival
label and year: Sense World Music 112 ; C 2008
(album release by the end of November 2008)