As part of the upcoming Amsterdam India Festival in november, the Van Gogh Museum features an exhibition of Indian miniatures, from 17 October 2008 to 4 January 2009. Therefore some of the regular friday night concerts in the Van Gogh Museum are focusing on Indian Classical Music. The concert on friday 24 October features dutch musician Lenneke van Staalen, a well hidden gem on the Indian violin. In the Van Gogh Museum she will be performing North Indian Hindusthani raga music. She will be accompanied by Niti Ranjan Biswas on tabla. The concert, in the beautiful Central Hall of the Museum, starts at 20.00hrs.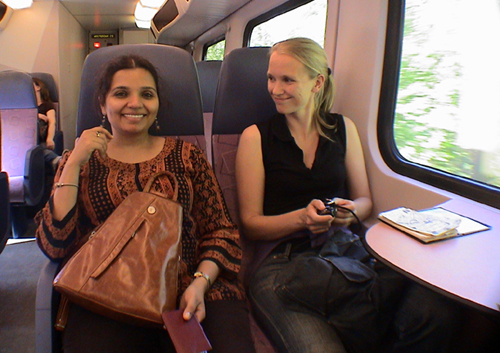 two players of the Indian violin, together in a dutch train: renowned and famous player Kala Ramnath and Lenneke van Staalen (photo: Pieter de Rooij)
Lenneke grew up in a family of western classical musicians and had her first encounter with north indian classical music in New Delhi, where she started learning from the late violinist Shri Joy Shrivastava. She finished her conservatory-studies in Rotterdam in 2003 under the vocalist Koustuv Ray, received her master diploma cum laude and won the price for excellent performance of that year. She continued her studies in Mumbai with masterviolinist Pandit D.K.Datar. In Europe as well as India Lenneke van Staalen performs frequently, both in a classical indian setting as well as in cooperation with other western classical- or worldmusic ensembles. She is a teacher of Indian violin at the Indian music department in Rotterdam.


the Kailash Ensemble: Heiko Dijker, Lenneke van Staalen, Marien van Staalen
Lenneke will also perform during the Amsterdam India Festival, on Saturday 15 november in the Noorderkerk -as member of the Kailash Ensemble– and on Sunday 23 november, in the Concertgebouw, during an evening of Indian string instruments.
In Lenneke's playing one can always discern a warm, rich tone, revealing the soul of a raga. Check it out!