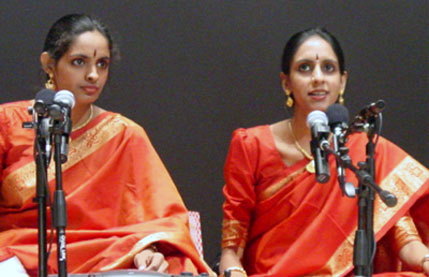 Ranjani & Gayatri
Sometimes you hear music and right from the start you can't get enough of it. Its beauty and its emotional content overwhelms you and you want to experience the musical sensation over and over again. The sounds you hear reverberate in your soul, seem to satisfy an inner need and connect with your deeper self. And when the music reaches really deep inside, sound and self can become one and a divine feeling of pure bliss is within reach. In raga music only the very best artists, live on stage in front of you, are able to evoke this kind of experience. Since last week I'm convinced that the sisters Ranjani and Gayatri, carnatic singers from Mumbai, are among this category of outstanding performers. Proof of this is this youtube-video I stumbled upon* last week.
After I watched the video a couple of times I left this comment:"What a fabulous, mesmerizing performance! Wonderful and really divine in their solo-parts (I wish the first five-and-a-half minute could last forever) and then such a sweet and beautiful composition in duet. Stunning voices!"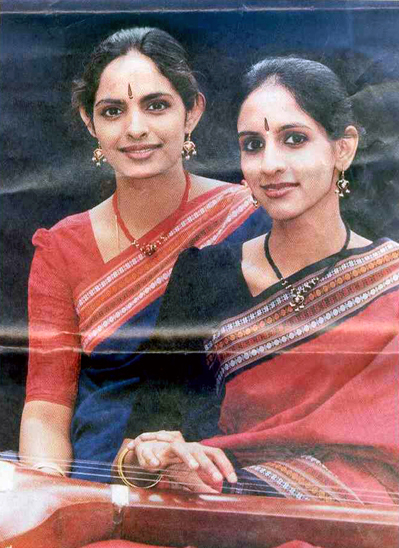 And here's a confession: although I'm familiar with many artists of hindusthani and carnatic music I had not heard of Ranjani and Gayatri until last week (- now ain't that a shame?! -) and it was a surprise for me to learn that -despite their young age- they've had a very succesful career already in carnatic music, first as violinists and for the past ten years they've astonished audiences worldwide with vocal performances. They switched -believe it or not- from a top violin level to a top vocal level. That's pretty amazing isn't it?!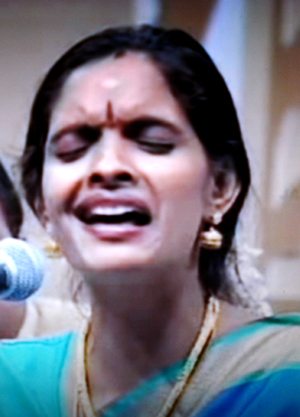 Ranjani in performance
Apart from the high level and the subtleness of the performance (notice also the nice rhythmic accompaniment and the great violin player) I think the video also beautifully illustrates Ranjani's and Gayatri's great dedication and devotional attitude towards music, a trademark all good performers in this genre have in common.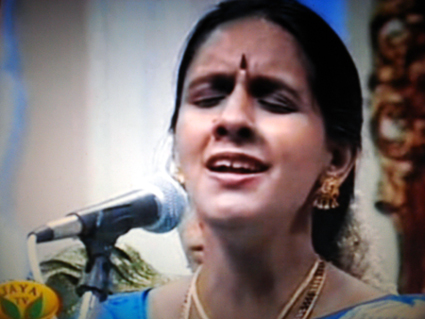 Gayatri in performance
———–
ok, here's some more details on the performance in the youtube-video: song: idu tano tillai sthalam ; language: tamil ; ragam: behag ; talam: adi ; composer: Gopalakrishna Bharati ; concert at Margazhi Mahotsavam 2007 in Mylapore
lyrics:
idu tano tillai sthalam
ittanai nalum ariyene
aduvo iduvo endru alaindidum peyennai
gati taruven endru kai katti azhaitidum (idu)
kasiniyil idhai kayilai endru ellorum
pesak kettade endru penip partarindidum (idu)
english translation: (my version, adapted from another english translation that was -in my opinion- way too archaic):
"Is this what they call Tillai Sthalam?** For all these days I didn't know.
While I ponder different roads to salvation, this place reveals how to attain it.
People tell this place is called Kailasam (or Kayilai) – Lord Siva and Parvati's residence. Search, and you'll find it here.
Is this what Tillai is? How come I didn't know for all these days!"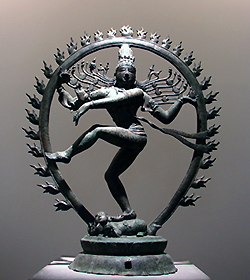 Hope you'll enjoy the video.
* Rather than thinking it was me looking for this music in the first place, I cherish the idea that this particular music was waiting for the right time -out there on youtube- to find me. And it did.
** i.e. Chidambaram, a sacred place and a holy temple in Tamil Nadu where Shiva (Nataraja) resides in his Ananda Tandava(-cosmic dance of bliss)-pose