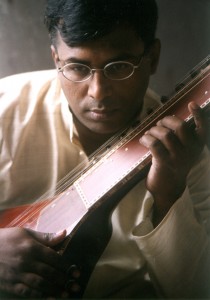 On Friday 29 May -from 21.00 to 22.30 PM, dutch time- there'll be a broadcast of a new episode of Gharana, my programme on Indian classical music for Holland's finest musicstation, the Concertzender. This time the programme focuses on Chitravina N. Ravikiran (b.1967), a celebrated musician in South Indian carnatic music. He has been labeled 'the Mozart of India' by critics. He's a virtuoso on a lute called the chitravina. It's the world's oldest fretless slide instrument still being played. Ravikiran was a prodigy and he became famous already at the age of two via (inter)national tv- and radio by showing his extraordinary ability to identify hundreds of raags and taals that were presented to him on the spot. By the age of five he was already performing as a singer and capable of performing hundreds of compositions. When his voice changed in puberty he shifted to playing the chitravina, an instrument he had been playing merely for fun before his voice change. Apart from being a brilliant musician Ravikiran is also a prolific composer and writer on music.
In the first half hour of the programme I'll be presenting a portrait of Ravikiran. In an interview he tells me about his early youth as a prodigy, his musical training by his father, about his later career and music and about his fascinating concept of Melharmony, that has enabled him to bring in the element of harmony in raga music. Examples of his Melharmonic music can be heard in the programme and of course there's also a lot of fantastic 'traditional' Carnatic music being played by Ravikiran on chitravina. Ravikiran is considered today's best slide player by many music lovers all over the world. I'm sure you'll be enjoying his fabulous playing in this upcoming episode of Gharana. You can listen live 'online' via www.concertzender.nl and f.i. via internet radio and after broadcast the programme will still be available for 'on demand' listening.
So, if you wanna hear fantastic slide sounds and beautiful music that's nowhere else to be found on radio, don't miss this programme!
For info in dutch and the playlist, click here.
If you like to learn more about Gharana I'd like to recommend this promo-video on youtube.
And I hope you'll become a member/supporter of Gharana on Facebook. Over here you'll find nice background information and regular updates on the programme.
Gharana, later on in 2009:
– carnatic singer T.M. Krishna from Chennai / broadcast: 31 July 2009